RootSnap!
RootSnap!, our free image analysis software, allows users to measure root growth and turnover dynamics, disease, and behavior over time by analyzing scanned images collected with the CI-600. Roots are easily mapped and quantified using a multi-touch feature and our proprietary "Snap to Root" function. RootSnap! is intuitive and efficient, using universal commands for images and file manipulation. Files are stored in common open file formats (XML) and the software supports exporting data to apps like Excel for further statistical analysis.
CI-690 RootSnap! Analysis Software Features:
Multi-touch Interface, optimized for touch-screen
Measurements of root length, area, volume, diameter & branching angle
Reports average values along with individual root data
Individual roots can be mapped in under 6 seconds
Integrated image enhancement
Automated "Snap to Root" functionality
Comprehensive image analysis package
Time-series root analysis feature
Intuitive and efficient user interface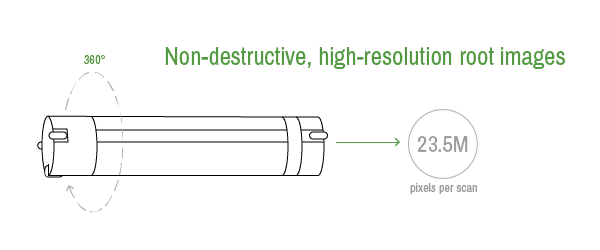 Features
High-resolution images (up to 23.5 million pixels)
Linear scanning with no distortion
100, 300, 600 DPI scanning resolutions
360-degree scans (21.59 × 19.56cm)
Live-updating root images
Included tablet computer powers scanner, operates control software, and saves images
Portable and convenient to transport and insert into root tubes
Allows observation of root growth and behavior over multiple growing seasons
Specifications
Image Size:

21.6 × 19.6 cm (8.5" × 7.7")

---

Scan Speed:
30-480 seconds* depending on scanning
resolution (100DPI-600DPI)

---

Image Resolution:

Up to 600 DPI

---

Computer:

Handheld tablet

---

Interface:

USB Cable

---

Scan Head Dimensions:

34.3 cm long × 6.35 cm diameter

---

Scanner Unit Weight:
750g

---

System Requirements:

Microsoft Windows 7, 8, 10
1GB Memory/RAM 1GHZ+ Processor

(Windows XP and Vista may work, however we are unable to provide technical support for users of these operating systems)
* Scan speeds for handheld tablet included with scanner. Scan speeds vary with device used to operate scanner.
Root Tube Dimensions
Inner Diameter:

2.5 in (6.35cm)

---

Outer Diameter:

2.75 in (7cm)

---

Wall Thickness:

0.12 in (3.2mm)

---

Standard Length:

41.3 in (105cm)
How to Use it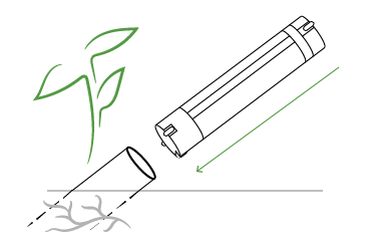 To obtain an image, insert the CI-600 scan head into a pre-installed underground tube and initiate a scan using the tablet computer. The scan head automatically rotates nearly 360-degrees, creating a 21.59 × 19.56 cm, high-resolution color image of the soil and roots. Users can easily move the scan head to different depths of the tube at calculated intervals using the indexing handle.
For more information about how to use the CI-600 In-Situ Root Imager, read our How It Works guide.
In the Box
The CI-600 In-Situ Root Imager includes:
The CI-600 main scanner unit
USB connecting cable
Six 105cm standard clear tubes with water-tight
end caps
Indexing handle
Operation manual
Calibration tube
Tablet computer preloaded with scanning software
and RootSnap! imaging analysis software
Software manual
Hard-shell instrument carrying case