Who We Are
We are engineers, scientists, assemblers, machinists, technicians, and businesspeople who have dedicated our careers to building better tools for plant physiology research. In the field or in the lab, CID's portable instruments put the best data into the hands of plant researchers around the world.
We specialize in creating light, compact instruments that are fully functional on-site, providing data on demand with no need for lab analysis. CID's field instruments are used to research photosynthesis, canopy structure, leaf area, spectroscopy, and root function. We provide you with plant science tools that work where you work, and go where you go.
Felix Instruments - Applied Food Science
In 2012 we founded subsidiary company, Felix Instruments - Applied Food Science, to put our decades of experience engineering plant science tools to work for the commercial agriculture sector. Focusing on pre- and postharvest applications, Felix Instruments helps Fresh Market professionals maximize the value of their products with our line of Gas Analyzers and NIR Produce Quality Meter.
---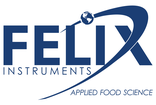 ---
Learn more at
www.felixinstruments.com