Latest videos

Application Scientist, Galen George walks us through how to utilize the vast array of built-in indices on the new SpectraVue Leaf Spectrometer! ATTEND THE SPECTRAVUE LAUNCH WEBINAR Why Commercial Agriculture Should Pay Attention to Leaf Spectroscopy in 2021: 3 Novel Uses for Leaf Spectroscopy in Leafy Greens, Berries and Cut Flowers Dr. Catherine Simpson (Texas… Continue reading…
Our latest webinar focusing on how leaf area measurements are used in research. A few of the research topics we cover – – Consistent forest leaf area index retrieval using ground and airborne data – Ecophysiology modeling by artificial neural networks for different spacings in eucalyptus – Morphological acclimation to agronomic manipulation in leaf dispersion… Continue reading…
During this time of social distancing, let's come together (virtually) to talk about root research! Special guest researcher Dr. Lorenzo Rossi of the University of Florida, along with our application scientist, Galen George, review real life situations where root research has been used and will discuss where it's headed in the future. 4 published studies… Continue reading…
How researchers are using photosynthesis in 2020 + guest researcher Stephanie Wedryk, Director of R&D, RX Green Technologies Join our Staff Scientist, Eric Munoz-Garcia, on June 4, at 8am PST, as he takes us through several real studies applying photosynthesis and chlorophyll fluorescence in recent research. We'll also be joined by special guest Stephanie Wedryk,… Continue reading…
In this webinar, application scientist, Galen George and researchers Derek Godwin (Oregon State University) and Brendon Anthony (Colorado State University) talk about the myriad ways the CID Bio-Science CI-110 Plant Canopy Imager can be used to collect and quanitfy data in environmental and agricultural research.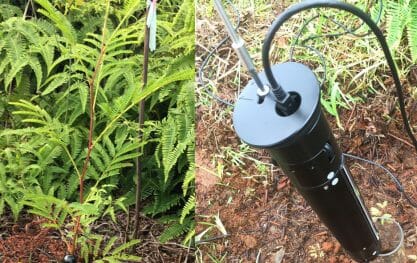 For more information about root analysis, click the following links to view more information on the CI-600 Root Analyzer and the CI-602 Narrow Gauge Root Analyzer.
Webinar Transcription Alright, so, we are just about a full house here already. So, we'll get started with the presentation. As you should be able to see on your screen, it should say, "A Change of View: Using Root Imaging to Expand your Research by CID Bio-Science." Online with me is actually our distribution manager,… Continue reading…
Request a quote for a CID Bio-Science Product
Pricing and all related materials will be sent directly to your inbox.