Field Notes: Correlating LAI and water uptake in riparian vegetation
---
---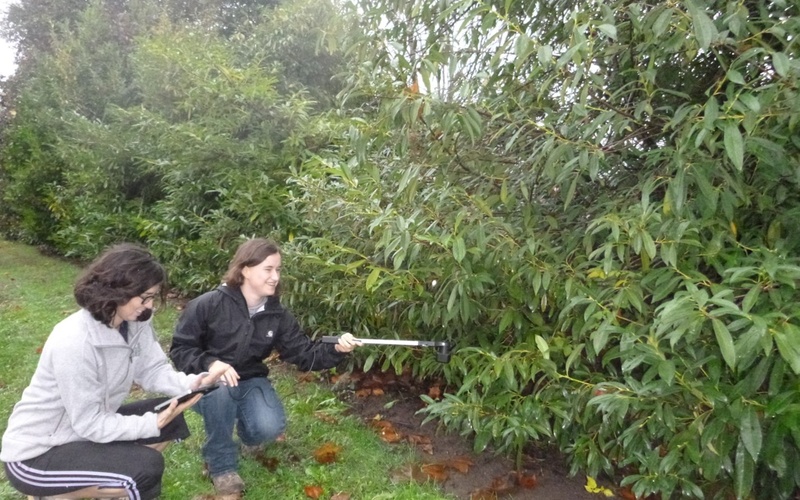 ---
The recent occupation of the Malheur National Wildlife Refuge in neighboring Oregon has brought rangeland management practices to the forefront of the collective publics' mind.
At Oregon State University, researchers in the Department of Animal and Rangeland Sciences seek to study the diversity of goods and services derived from rangelands, as well as the economic well-being of the communities to which they are linked.
Jaycee Leonard is a M.S. student in the Rangeland Ecology and Management program at Oregon State University under Dr. Carlos Ochoa. An Oregon Beef Council (OBC) Research Endowment Recipient, Leonard is focusing her research on studying different hydrological and ecological relationships occurring in semiarid riparian ecosystems.
The primary field site for Leonard's research is a riparian area along the 15 Mile Creek in Wasco County, Oregon. Riparian vegetation in the study area is comprised mostly of reed canary grass and red alder, a deciduous broadleaf tree native to western North America. One of the goals of Leonard's project is to investigate the relationships between riparian vegetation and the temperature of the stream, which has reached historic highs in recent years. These high temperatures are a concern to multiple stakeholders including cattlemen, environmentalists, and naturalists as they have an effect on the entire ecosystem and the ecosystem services that these unique areas provide.
Using the CI-110 Plant Canopy Imager, Leonard is working to estimate tree leaf area index (LAI) of dominant riparian vegetation species such as red alder. At the same time, using sap flow sensors she is monitoring water uptake by red alder trees. The goal is to correlate riparian vegetation LAI with water uptake by riparian tree species. This winter, Leonard is analyzing the data she has collected so far while getting ready to the beginning of the new field season.
---
Judith Edwards
Marketing Manager
1-360-833-8835 Ext. 208
---